The American Association of University Women (AAUW) is a charitable membership organization with a nation-wide network of more than 170,000 members and donors. Our mission is to advance equity for women and girls through advocacy, education, philanthropy, and research.
******************************************************************************
Join Us! Concord Crawl will be on June 18, 2022!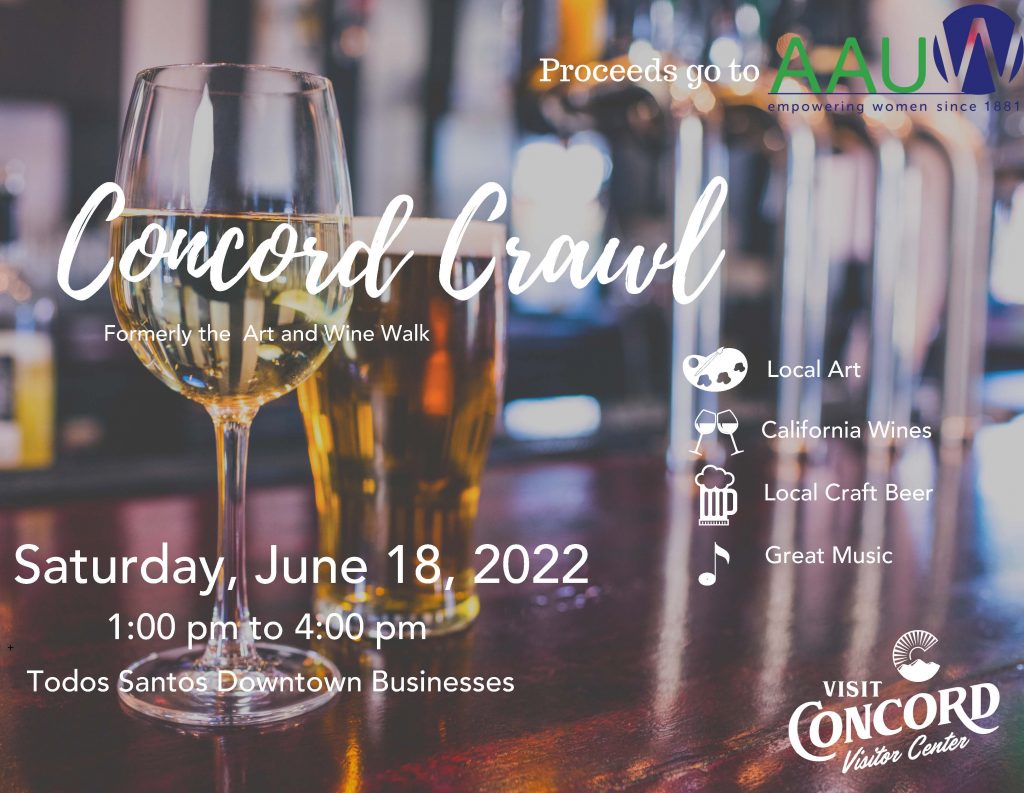 Proceeds will benefit the AAUW Concord Educational Foundation providing for local 7th-grade girls to attend Tech Trek and scholarships for students at DVC and LMC.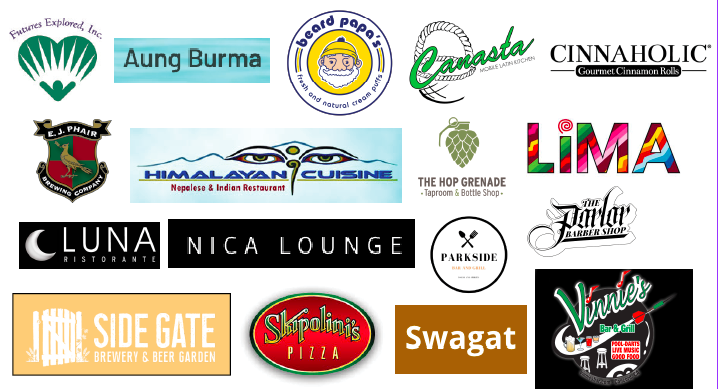 Thank you to all our participating Businesses, Wineries, and Breweries!


Final Music Performer Line Up and Locations:
CANASTA KITCHEN – KID VILLAIN 1:00-4:00
PACHECO SQUARE – SIN SILVER (Host) 1:00-1:45, CHELA ROBLES 1:50-2:15, ERIC HUNTER 2:20-2:40, CHLOE BERMUDA 2:45-3:30, SIN SILVER 3:30-4:00
SIDE GATE BREWERY & BEER GARDEN – BLUE MOONSHINE (host) 1:00-1:45, FOUR PLAY 2:00-2:30, MEMPHIS BLUES 2:45-3:15, JERRY RAWLS and the MOJO BAND, 3:30-4:00, BLUE MOONSHINE w/RICH MONTERO 4:00
SKIPOLINI'S – TWO FRANTICS (host) 1:00-1:45, MEL BEARNS 2:00-2:45, JAM SESSION 3:00-4:00
NICA LOUNGE – OTILIA DONAIRE BAND (host) w/guest RICH MONTERO 1:00-2:00, THE JUST PROJECT 2:15-3:00, NO CONTROL 3:15-3:45, OTILIA DONAIRE BAND 4:00
VINNIE'S BAR & GRILL – SLIPPERY LEAVES (host) 1:00-1:30, JEFFREY MARSHALL AND THE FOUNDATION 1:45-2:30, JOKER ON JACK 2:45-3:15, DAPHNE BUTLER 3:30-4:00, MICHAEL GREEN 4:00-4:30, SLICK PEARL 4:30-5:00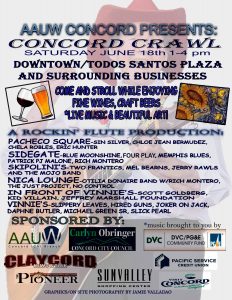 Learn more about AAUW. Watch the One AAUW video below.
*******************************************************************************
For more information or to attend a Program: contact Concord AAUW  or send us a note at    Concord AAUW PO Box 434, Concord, CA 94522