AAUW-Concord honors the memory of members who have passed by acknowledging their contributions to the Branch and their unwavering commitment to the mission of AAUW.
Doris McGuire
Long-time AAUW-Concord member, Doris McGuire, passed away on Thursday, April 9, 2014.  A celebration of life was held at the home of her son and daughter-in-law on Saturday, May 3, 2014.   A picture of Doris and her AAUW-Concord contributions will be posted when they become available.

Betty Hirsch
As Betty's son described her, Betty was an "acquired taste".  She could be outspoken, a bit bossy, a bit stubborn…but always caring, loving and devoted to the important people and things in her life.
AAUW-Concord member, Phyllis, recalls, "We were partners in many AAUW projects through the years, but the two that we developed long ago and continued through this year were Adopted Families for the holidays, and Back Packs for kids in the Mt. Diablo School District. Betty was a regular substitute teacher at Ygnacio Valley Elementary School for many years and for this reason we focused on it as our adopted school.  On delivery of packs and gifts each year, it was a joy to watch her beam as the kids and teachers would receive our donations.  Of course, she always made the children politely say "thank you" in English.  Her ready smile and the twinkle in her eye will continue to be with us as we continue these favorite projects that she loved.
Betty was proud of her membership in AAUW and she served our branch in many capacities throughout the years.  The various offices Betty held included Membership VP, Program VP, EF/CEF VP, Tech Trek Chair, Ways & Means Co-Chair, Special Projects, and Mailing. Her special efforts earned her the Distinguished Woman Award in 1990 and a Named Gift Award in 2001, and Name Gift Award (posthumously) in 2014.
In recent years, Betty continued her commitment toConcord Branch by serving several years as EF/CEF co-VP as well as repeatedly co-chairing the Backpack Project and the December Adopt-a-Family Project and being an active  part of the Evening Book, Bunco, and the Great Decisions sections.  Just this last year, Betty was to be our co-Recording Secretary, co-chair the Backpack Project, and serve on the AAUW Funds/CEF Committee.  If help was needed, Betty raised her hand.
Betty particularly enjoyed the selection and honoring of our Concord Education Foundation Scholarship recipients, and she eagerly shared her advice as well as her encouragement with the individual applicants. Betty was also thrilled when the branch collected and filled 60 backpacks with a variety of school supplies that were then delivered to needy children at a local school.
You could never be in a room very long without knowing Betty was also there.  She rarely missed an opportunity to impart her opinion, advise, or comment on something.  She was one of a kind.  We will miss Betty's smile, her enthusiasm, her generosity, and her devotion to AAUW Concord Branch.
Carol Slatten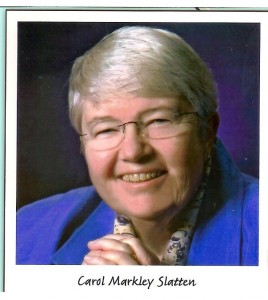 We were very sorry to learn of the recent passing of one of our most dedicated and beloved members, Carol Linda Markley Slatten. A beloved mother, grandmother, sister and friend, Carol was born in Turlock on January 15, 1938 to Harold and Gertrude Markley. Carol was the eldest of four children. After graduating from Turlock High School, she attended UC Berkeley and USF Nursing School. A long-time resident of Concord, Carol was actively and enthusiastically involved in several philanthropic organizations, and a passionate supporter of education and the arts.
She will be greatly missed. Carol was preceded in death by her husband, Derrell Mack Slatten. She is survived by her three daughters, Katherine Somervell, Jennifer Slatten, and Emily Slatten; her grandchildren, Conor and Emma Somervell; her siblings Kathi Curry, Sally Owens, and Bill Markley; her friend, Celeste Graham; and many nieces, nephews, and cousins.
A memorial service was held on May 26, 2012 at 1:00 pm at the Lafayette United Methodist Church, 955 Moraga Road, Lafayette, CA.