AAUW Selected Professions Fellow Lissette Wilensky Speaks at Concord Education Foundation Lunch & Fundraiser
What: February General Meeting
When: Saturday, February 25
Time: 11:00 Social
11:30 Potluck Salad/Dessert Buffet
12:30 Program
Where: Concord Methodist Church, 1645 West Street, Concord
Cost: Your generosity will decide your donation to AAUW Funds and/or CEF
According to AAUW's Annual Report, $3.2 million in fellowships and grants was awarded in FY 2011 to community programs and promising women like Lissette Wilensky.
As a current fellowship recipient, Lissette will address the Concord and Clayton Branch members on February 25th at our joint meeting. She is a Selected Professions Fellow in the joint Bioengineering/Translational Medicine Masters Program at UC Berkeley and UC San Francisco. Her plans are to use her education to bring new technologies and treatments into the biotechnology and medical world by the application of cellular and molecular engineering and regenerative medicine. No doubt, these are fields we will hear a great deal about in the future so please join us in welcoming Lissette.
Our branch supports two educational foundations – Fellowships and Grants under AAUW Funds as well as our own Concord Education Foundation (CEF) where scholarships are awarded to women from DVC and LMC who are transferring to a four-year college/university as a junior. While we accept donations throughout the year, we do focus on February by providing an envelop with your newsletter for your annual donation. Please mail your donations to Joanne Brown or bring to the February luncheon.
Donations: Your check should be made out to "Concord Branch AAUW Education Foundation." Your donation is tax deductible. Indicate which Fund you are donating to on the memo line or, if you choose to support both special causes, write one check made out as above and indicate on the memo line "`1/'2 to AAUW Funds and1/2 to CEF." We know financial times continue to be a challenge for many of us just as they are for the women we support through these two worthy programs – we appreciate your generosity.
Organizers: Joanne Brown and Carol Slatten, Co-VP's, AAUW Funds/CEF
HUMAN TRAFFICKING
What Is It? How Can You Make a Difference?
Sponsored by: AAUW Contra Costa Interbranch Council and Contra Costa Commission for Women
Date: January 29, 2012
Time: 2:00 PM – 4:00 PM
Location: Lafayette Library and Learning Center, 3491 Mt. Diablo Blvd, Lafayette, CA
Event fee: FREE
Come and hear three government and non-profit sector experts from our area: Jennifer Alderete, special agent with Homeland Securities Investigations, Cindy Liou, staff attorney with Asian Pacific Islander Legal Outreach, and Ms. Caritas Foster with the Holy Family Sisters organization. They will discuss the scope of the problem (nationally and locally), suggest ways to combat human trafficking, and inform attendees of non-profit and government resources. This program advances education and advocates effective action that can be taken on these issues by AAUW members and the local community.
Holiday Party
December 3, 2011
11:30 AM
Holiday Party
Sizzler in Concord
Menu selection may be made the day of, and will include soup/salad and dessert bars, and a fountain beverage
Silent Auction
Entertainment
Please send your check for $20 to:
AAUW-Concord
P.O. Box 434
Concord, CA 94522
Make check payable to AAUW-Concord. Your check will be your reservation and must be received by November 28th.
Join Us!
November 2011 Concord Correspondent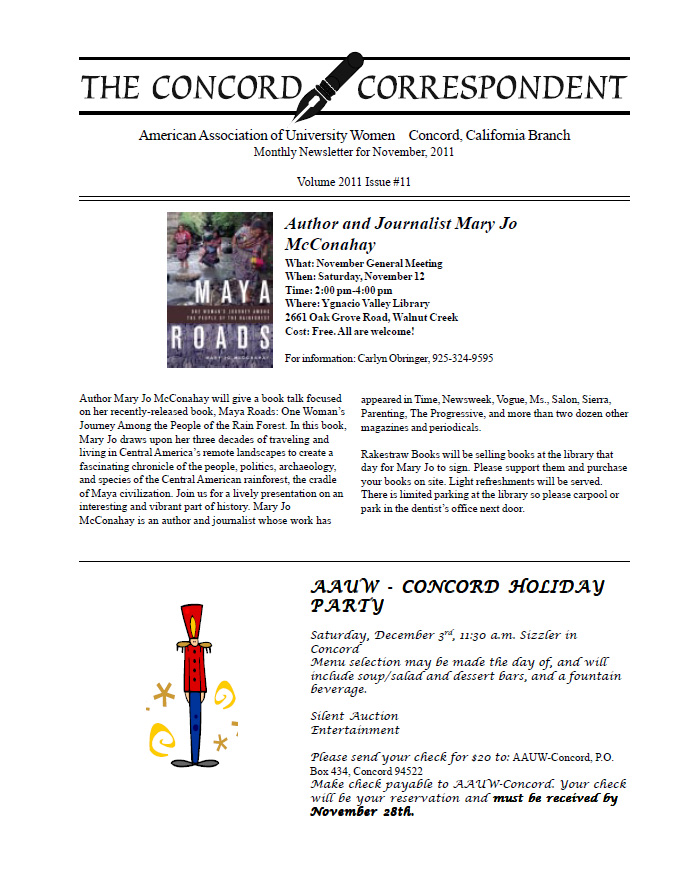 Board Meeting
December 1, 2011
Board Meeting
49ers Concession Stand
November 13, 2011
November 20, 2011
December 4, 2011
December 19, 2011